Felt Name Badges
Here we are making name badges using needle felting
Peg Loom Weaving
with Janet Phillips (Threshing Barn)
This is what we were aiming for ....
Who knew you could do this on a peg loom! I didn't so the day started off as a surprise and continued with wonderful and patient guidance, amazing creativity and lots of laughter. We worked hard, honestly....
and there was homework!
---
Coastal Colours Dyeing Workshop
February 2019
Report by Patsy Hayes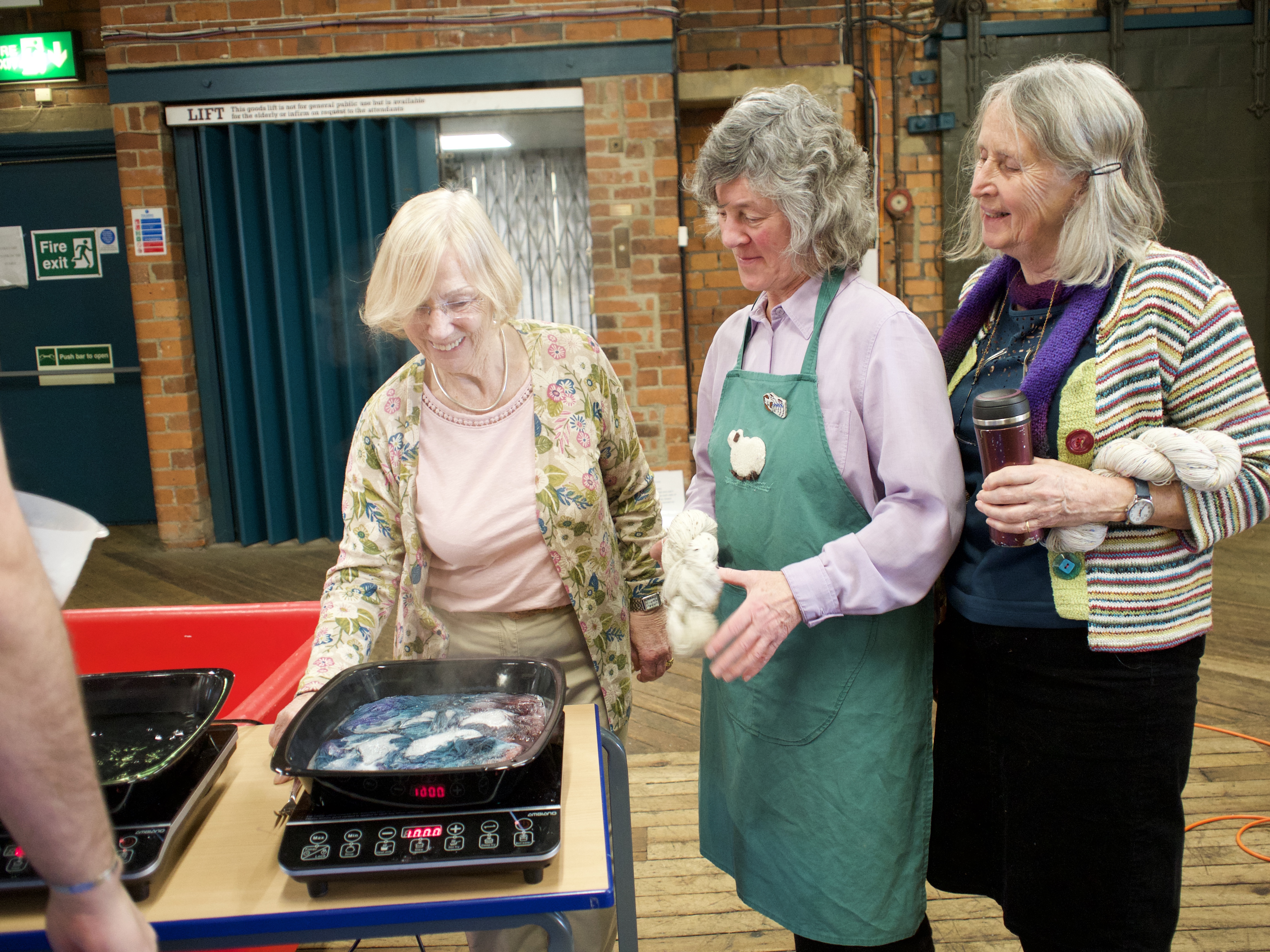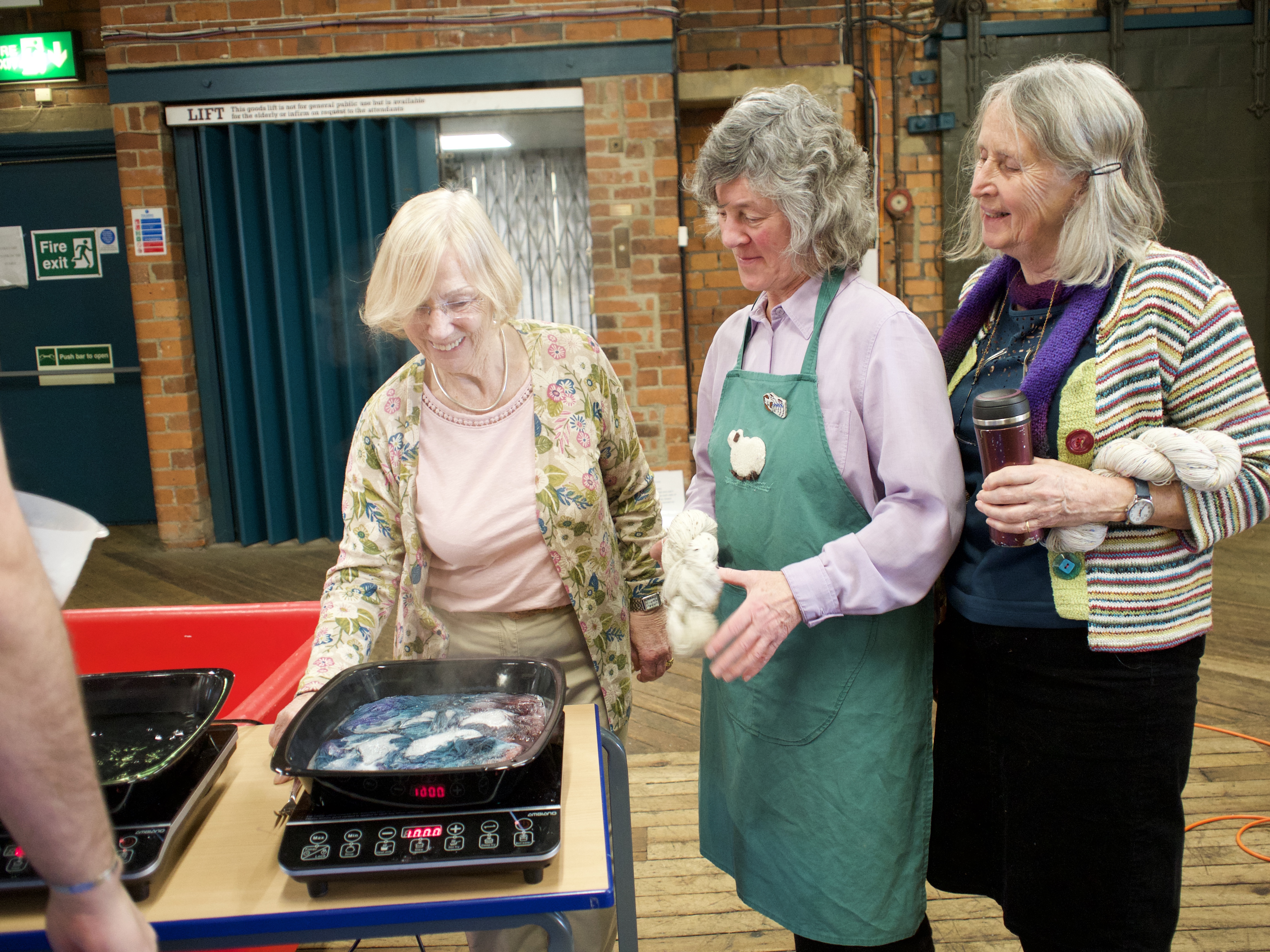 As a new member, and at my first session, it was exciting to discover that we would be dyeing wool. Having got the start time an hour early I was also lucky to be at the front of the queue for my turn!
I'd never dyed anything in this way. I've used natural dyes and also had a go at tie dyeing and batik. I also pretty regularly use machine dyes to restore fading clothes, change the colours of towels and the like, and most recently to dye cottons for using in patchwork.
The range of colours offered in this session was daunting. There must have been 50 or more. I was pleased to be coupled with Edna who requested Autumn colours for her yarn. She used just one colour. A very lovely brown which produced an array of hues as it dissolved in the water. Following her idea I chose winter and used alpine, indigo, crab apple and mulberry. I liked the result but perhaps wouldn't have the alpine in should I do it again.
The process involved first putting the hank of wool into boiling soapy water then lifting it into boiling water and adding the colours. Nothing was added to the colours except when using blue, which required some citric acid. It simmered for about 5 minutes before it was ready. We then rinsed our hanks and hung them up to dry. As the session went on the array of pretty yarns drying were delightful to see and a focus of conversation and swapping of compliments and ideas about colour choices.
I'm looking forward to being able to buy some more of the yarn to match my ball at 'Spring into wool' at Leeds Grammar in a few weeks. I'm thinking I may knit a throw and use my wool for the border.
---
Freestyle Knitting and Crochet
(Bee Weir from Crafts from the Clink)
We had a fun and very creative afternoon with Bee making our own scrimbles using freestyle knitting and crochet
Various techniques are used to create shapes and features which are attached to each other and builds organically rather than following a specific pattern
The above illustrates knitted rectangles, crocheted circles and knitted attachments. A completed example of freestyle knitting is shown below
Its a lovely pick up/put down project where you can incorporate remnants of your lovely handspun yarns or samples. I'm hoping mine will turn into a cushion cover!
---
Nuno Felting Workshop
Tutor: Angela Barrow (Adelaide Walker)
Nuno felting is a fabric felting technique developed by Polly Stirling, a fibre artist from New South Wales, Australia, around 1992. The name is derived from the Japanese word "nuno" meaning cloth. The technique bonds loose fibre, usually wool, into a sheer fabric such as silk gauze, creating a lightweight felt.
Nuno felting - Wikipedia, the free encyclopedia
en.wikipedia.org/wiki/Nuno_felting
Here are some of the fabulous creations made in a single afternoon
Preparations
Plus Rolling and Slapping (felting term honest!)
Produces beautiful results!
---
June - Finger Manipulation with Plain Weave
---
April - Four Corners
Cotton Preparation & Spinning
Fibre Carding
Book Sale
Knitting Clinic
A very industrious day for the members of the Bradford Guild. Thanks to those who shared their knowledge to make it a very enjoyable day
---
March - Plant Fibres Talk
Teresinha Roberts
A fabulous afternoon with another talk from the very knowledgeable Teresinha Roberts.
Not only did we find out some fascinating and very interesting facts about the variety of plant fibres, we also got to admire once again, one of Teresinha's jumpers made from plant fibres no less!
---
Dyeing Workshop by Debbie and Pete Tomkies
---
Talk: Bedouin Weaving by Rhona Crichton
---
A Workshop on Extended and Long Draw Spinning by James Perry
---
Workshop on Colour and Weave by Jane Flanagan
---
Workshop dyeing skeins of yarn with Graham and Lindsey Langhorne
---
Cotton Spinning Workshop Day Class


---
Yorkshire Buttons - Margaret Clark
A well attended workshop and lots of creativity by those taking part I'm sure you'll agree.


---
4 - Corners Weaving Skill Sharing - There was so much to see, learn and try!
Warping the rigid heddle loom The Inkle Loom
The 8 shaft loom The Peg Loom
---
February Skill Sharing
A fun day was had as we freed the drum carder and the blending board from our overflowing cupboard.
We made blended batts and rolags with simple dowels.
Just a Small Selection of the Workshops and Activities we have enjoyed at our Guild Meetings