2020 Chair's Challenge Joint Winner: Krystyna
Craft Hobbies: Weaving, dyeing, walking
Best Slogan to describe your stash: Under control but growing with hand spun and hand-dyed yarns from my hubbie!
What's your best tip: Have a go! What is the worst that can happen?
What are you currently working on? A scarf on my rigid heddle and a shawl (spot bronson pattern) on a 4 shaft loom
Memorable achievement - Winning the chair's challenge in 2020 - I don't win stuff!
Now to the juicy section - Stash!
Can it fit in one box? Yes (A very large one)
Is any of it hidden! No
Will you ever get through it? No.... ha ha ha .... that's the whole point - its an inspiration!
---
2020 Chair's Challenge Joint Winner: Edna
Craft Hobbies: I like to dabble in a variety of crafts, mainly textile. My main interests are knitting, spinning dyeing and sewing but do some weaving and have had a go at felting, beading, tatting.......the list goes on. I have been involved in folk clubs for many years and have learned many songs related to textiles and mill workers.
History: My Mum and Granny used to knit and I pestered them to teach me when I was about 5. The girls had a little bit of sewing and knitting in primary school but I was always jealous of the boys who did a little bit of basketry and weaving. When we got to high school they got woodwork and metalwork and the girls just had a little sewing and cooking.
I think I had always been interested in wool production and processing but the first time I actually tried a spinning wheel was on Fair Isle in about 1973. I went there on a National Trust work holiday, nothing to do with textiles, with some fellow Aberdeen University students and one of the crofters did some spinning. We were also involved in "sheep day" on the island. Half of the tiny island is moorland so on a dry summer day, every able bodied person and dog goes up to the north lighthouse and they then walk in a line, like grouse beating, to drive the sheep down to the sheep pen. Each crofter then hand shears their small number of sheep. One poor sheep had 3 legs tied together so it could not escape, and was then shorn by my friend and me!
Some years later I bought a spindle at a folk festival and then progressed to a second hand wheel. In Chester at that time, there was a spinning evening class which I went to for a term and then joined Chester guild of Weavers, Spinners and Dyers. On moving to Yorkshire, almost 30 years ago, I then joined Bradford Guild.
I do like to make things of rubbish and recycled things so have spun and knitted, woven and crocheted yarns containing audio and video tapes and recently made a bag from coloured net bags in which the supermarkets sell fruit.
Current Project: I am currently knitting a scarf from a hank of yarn which was dyed with chrysanthemum flowers. One end of the hank was then overdyed with seed pods from nicandra physalodes and the other end with woad leaves, so the resulting yarn is yellow, lime green and light brown.
Memorable Achievement: Some years ago I embroidered a panel for the "Scottish Diaspora Tapestry". This eventually had about 300 panels, far more than anticipated, which give a history of Scots achieving in many Diaspora countries, England being one these! My panel was about Thomas Telford, the great road and canal builder.
Stash One of my spare bedrooms has fitted wardrobes across an entire wall so there is room for just a little stash in there!
---
2019 Chair's Challenge Joint Winner: Julie Whittingslow
The crazy loveable lady with the blue hands is our very own and extremely talented Julie Whittingslow who shared the Chairman's Challenge cup with the equally talented Anne Marie Bardsley. Hope you're sharing nicely ladies!!
Craft Hobbies: Knitting, Crotchet, Spinning, weaving and sewing - phew!
Best Slogan to describe your stash: Organised so only I think I know where everything is!
What's your best tip: This is my excuse for not sampling, might as well make something I can use, you can always try something different next time.
Craft History
Started as a lot of people do learning to knit and crochet with my Granny and Great Aunt over the summer holidays. Decided about 12 years ago I fancied another challenge so I bought my first loom. At this point I thought I ought to find someone to support/ encourage my weaving so through a friend of a friend I came along to the guild. I got a great deal of encouragement and useful pointers as well as an introduction to spinning, so the purchase of a loom was closely followed by a wheel or two.
I continue to weave and spin usually doing at least one or the other on a daily basis. I feel cheated if i don't get my fibre/ yarn fix. I agree Julie - should be part of our 5 a day!
What are you currently working on?
A draft from the 8 shaft weaving book by Carol Strickler number 246. I found a great facebook group that shares their weaving from this book so you get a better idea of how a draft will appear. Only wound the warp yesterday so will be on with it later today.
Memorable achievement
Over the last decade my enjoyment through weaving and spinning has grown, particularly when I produced a blanket from raw fleece that I had dyed, prepared, spun and wove. This led to a number of double width blankets, the latest of which I was pleased to jointly win the guild challenge with.
Now to the juicy section - Stash!
Can it fit in one box? Yes it all fits in one box, well a room is like a box isn't it!! - ummmm Julie I don't remember sitting in a box to watch TV
Is any of it hidden!No, I have no need to hide my stash as my other half is a keen collector and associated paraphernalia as well as a weak spot for Russian watches. So I guess it allows for a guilt free stash! - I should say so!
Will you ever get through it? SABLE - I used to think I had, but weaving seems to be using yarn at a greater rate than I anticpated, so who knows, better buy more just in case
---
2018 Chair's Challenge Holder: Julie
This year's challenge was "suffrage" in line with the 100 year anniversary of when certain women were allowed to vote.
Julie made a wonderful sock blank which was knitted, dyed and painted!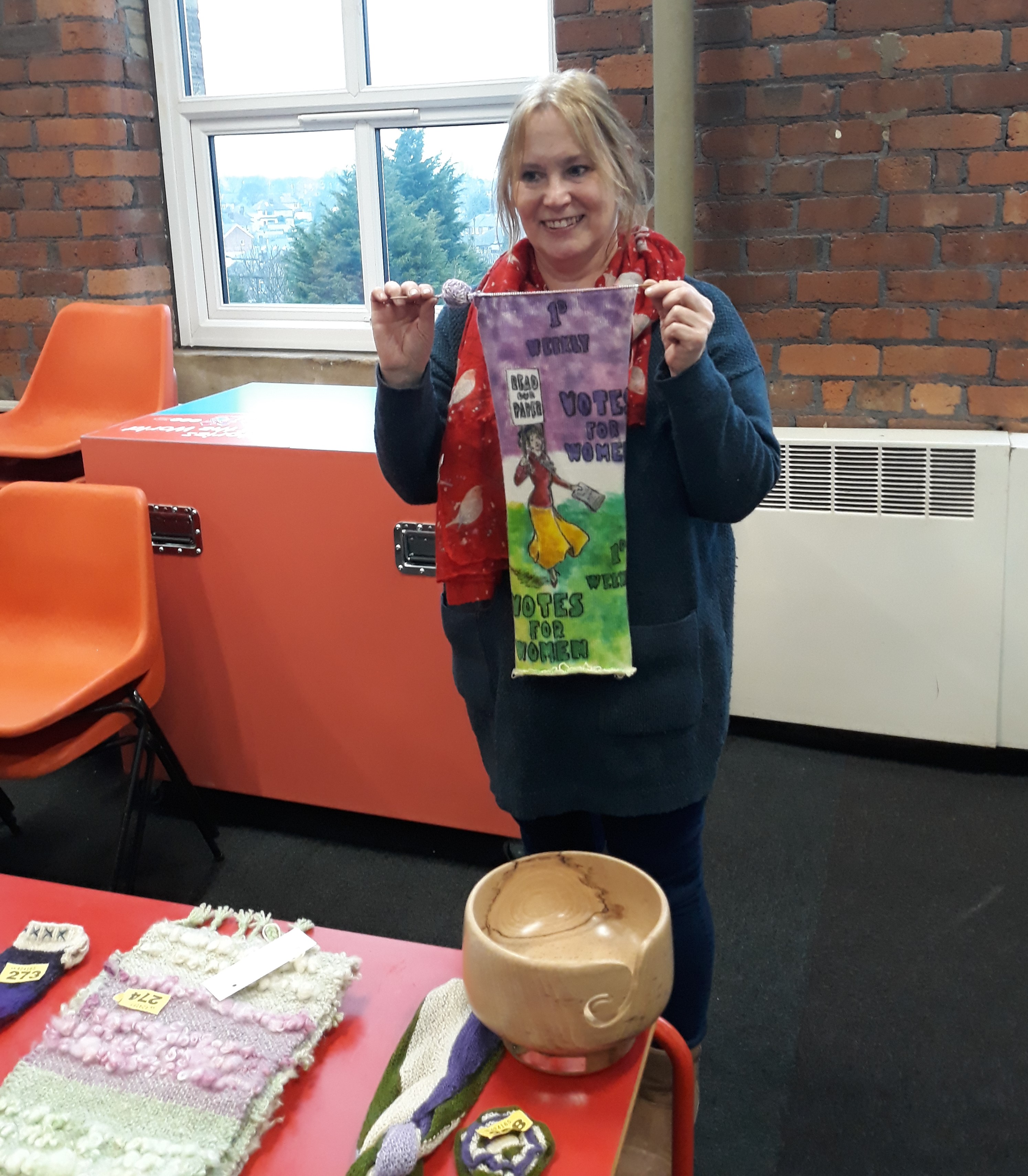 Here are some of the other creative entries